Phone:
Email:
Degrees and Certifications:
Bachelor's degree: Human Development Lesley University
Mrs.

Cathy Pegg

Hi everyone,

I hope everyone is doing well. I am the reading support teacher for your child. I want to continue to support them with what we do in my classroom. I will post three lessons on my webpage, over the course of one week.

I will have each lesson posted by numbers and grade levels. So always start with Lesson 1 and continue numerically. You may need to download materials that I will include on your email. This should not be stressful. I know they are getting materials from their teachers. This is extra support to help your child.

I miss the students so much and hopefully we will be back to school soon. Stay healthy and stay safe. We will get through this....

Love,

Mrs. Pegg

Please see below for lessons.......

Lesson 1 for 1st Grade

Here is a list of cvc words, which stands for: consonants/vowels/consonants

Practice reading them. Show everyone how you can tap them out with your fingers. Read them fast, read them slow, read them in a silly voice and read them in a baby voice.

cat sat peg fed wig top cup map red sip box pug dip lot nut bad beg jig mop sun bed sad dug bet

These are some nonsense words for you to read. They are a little bit harder to read as they don't make any sense. pox tup mot bix weg gip tep sot yaz dut bif lut tid gat

Next you are going to read the poem, Can I Get a Pet. See if you can read it 5 times. I bet each time you read it it will be easier. Remember there are some question marks and an exclamation mark in the poem. Do not read like a robot. Put some expression in your voice.

After you are done reading the poem, can you circle or write all the words that rhyme with pet? Can you write 4 more words that rhyme with pet?

Write a sentence telling me what kind of pet you would like. Remember (CUPS), which stands for capitals, understanding, punctuation, and spacing.

If you have time email me the sentence that you wrote. I would love to see it.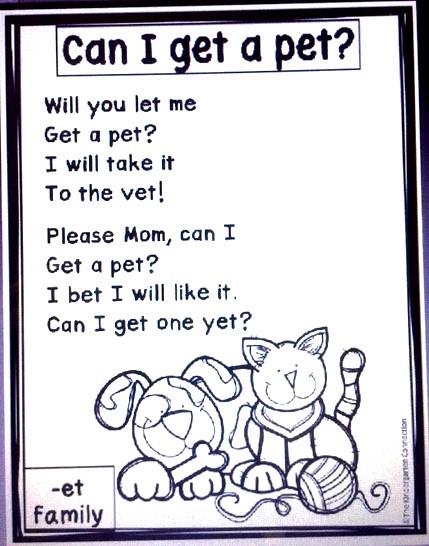 Lesson 1 for 2nd Grade
We are just going to review the glued sounds. The poster is below. These are called glued sounds because there are more than one sound, but they are glued very closely together. So to tap out these glued sounds we use two or three fingers glued together. For example, sang is tapped /s/ (one tap with index finger), /ang/ one tap with three fingers).
Sorry the poster is a little crooked. Can you look at each glued sound picture and say them like we do in class just to refresh your memory.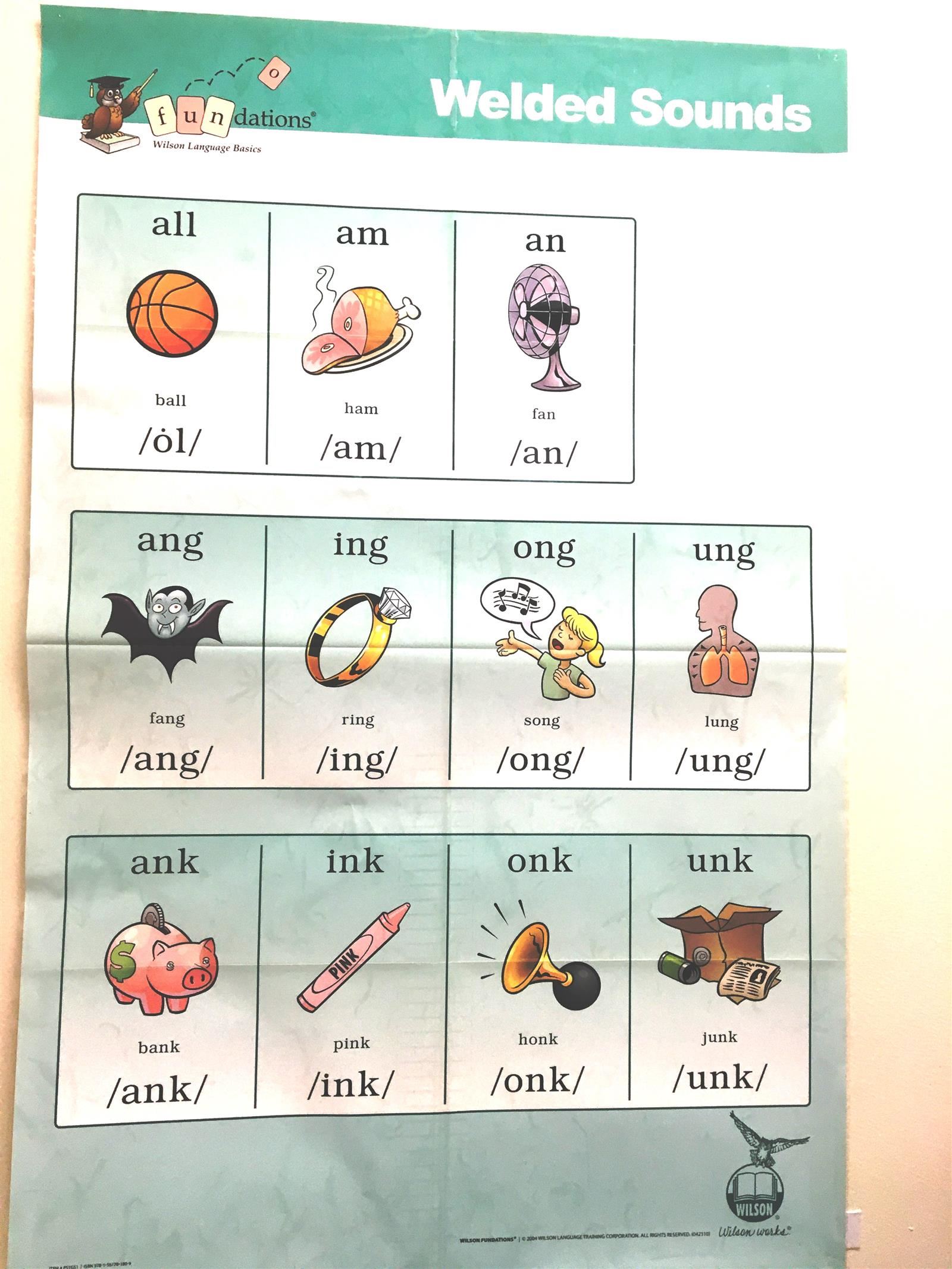 Read the Long Song a couple of times. Remember to read with expression. Can you find all the glued sounds in the story. Can you mark them up in the story or write the words out and mark them up. Remember we box in the glued sounds. I challenged you to find more than 25!!!!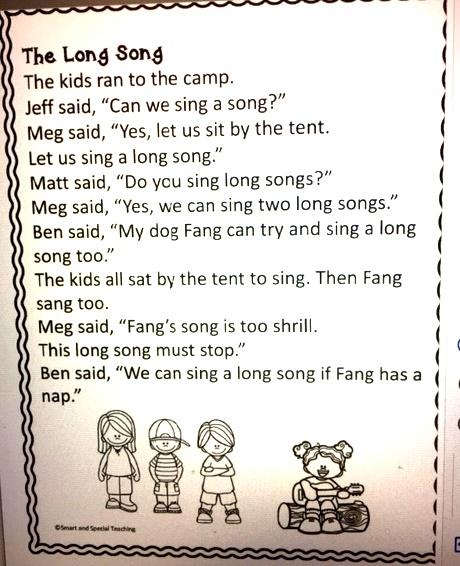 Please answer the following questions pertaining to the story. Remember QPA (question is part of the answer).
Where did the kids go?
What did the kids want to to?
How many songs did the kids want to sing?
Why did the kids want Fang to take a nap?
If you have time, send me one of the sentences you answered about the story. I would love to see.